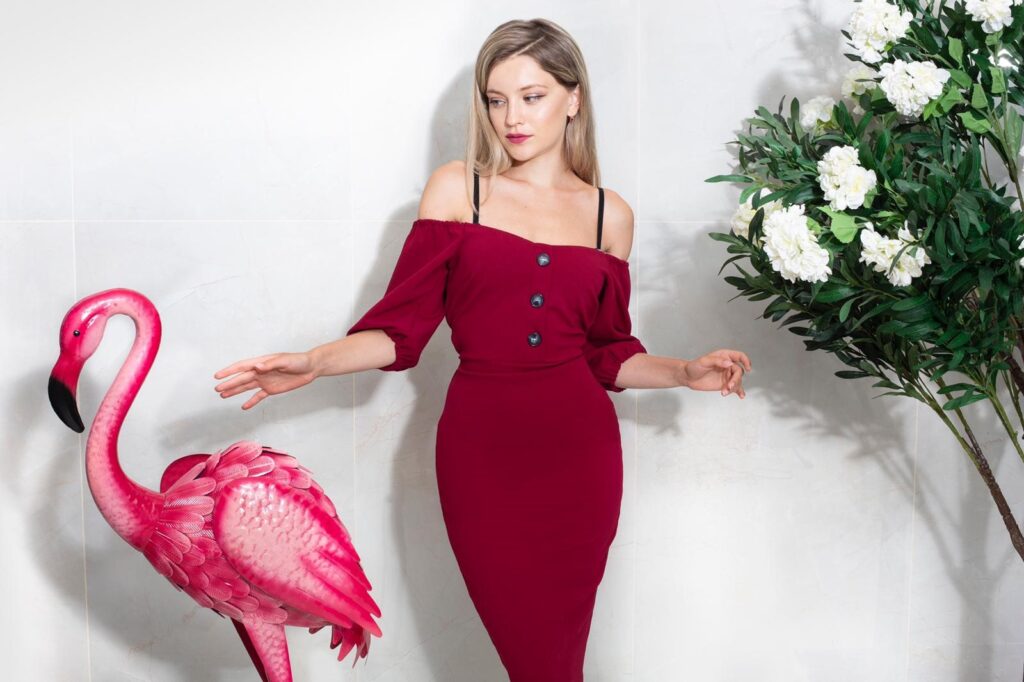 Flo, your virtual assistant at Artisan Furniture 🦩
You may know me as the only stationary member of the London office, or as the pretty little flamingo that charms visitors as they enter to meet our team, or Florence, or even just as Flo the Pink Flamingo. But there's one more quiver in my arrow, one i've been working on with my human friends for quite some time now. Stage left, Flo the Virtual Assistant. 
You'd be surprised how difficult it is to learn pages upon pages of product data, photos, tracking information and how to answer all your small queries. Especially for a static flamingo. But on the insistence (and provision of multiple fish snacks) of my friends at Artisan Furniture, I've taken up this position to help all of you on the website and make your experience just that little bit smoother. Besides, it takes away from the boredom of standing in the office all day with no other pink birds for company.
I don't happen to celebrate any human holidays so you'd be glad to know I'm available every day of the year, and 24 hours a day. Metal ornaments don't need sleep surprisingly enough. 
You all have been keeping me immensely busy over the past few weeks, which is all the better because what else does a static flamingo have to do to spend her time? Wildlife documentaries and reading romcoms only go so far and I do love the intellectual stimulation (and the attention) so let's keep it going!
With my assessment and bonus not that far away, I feel like it's the right time to drop a little guide as to how I can be most useful. The below functions and information can be obtained without involving my human colleagues in London as well as Jaipur —
Appointments — If you'd like to speak to someone over the phone for a longer period of time or about a specific topic, you may book an appointment on the aptly named Appointments
Bespoke — If you are looking to make changes on an existing product or designing a completely new one for your purposes, I can help you out by providing information on how our bespoke function works and pointing you in the right direction.
Dropship — This section is an excellent resource to learn about what dropship is and how it can be useful for your business.
Deals —I have aggregated all our finest deals under one roof. These are constantly refreshed and available till stocks last. Here's one for the bargain hunters!
e-guide — Did you know, my human colleagues have written a comprehensive guide on dropship, one that also includes 10 short stories about how dropship has powered people and their businesses across the British Isles? Well you do now! It's all for just £2.99 as well.
Flo — My lovely colleagues created this page to display my strengths and weaknesses and… what more can I say? I'd say it's rather accurate, as is the rather flattering photo of me in the London office. Check this section out to know what I'm best at and where I'm still evolving , as well as to learn how to explore my knowledge.
Inspire me — I have personally chosen some of my favourite lifestyle photos of Artisan inspired homes, featuring my pretty human friends. Have a look to give yourself a spot of inspiration on what to choose, promote and sell. These are copyrighted images though and I can get quite possessive about them, so please don't use these ones on your website or social media!
International — This one is dedicated to our customers who sell products outside the UK. There are scores upon scores of countries that Artisan ships to (through shipping companies, not flamingoes unfortunately). You can use this section to ask questions about the international side of the business as well as find specifics about the countries you wish to sell to.
Invoice — I can generate an invoice and email you a copy on your registered email address if you enter your Order ID. Do avoid printing it if you can; while I live in an office my wild brethren may not be quite as lucky. They need a home to go back to.
New Signups — I can help you with signing up if you're a new trade customer by walking you through the simple process and answering any queries you have.
Orders — After you've placed an order, you can use this section to know its progress, including tracking it. Simply enter in your order ID and I'll take care of the rest. This feature will let you track current as well as backorders.
Products — If you have specific questions about products such as product descriptions, dimensions, internal measurements, restocking date etc, you can type in the product code and instantly find out without my human colleagues needing to look them up! The perks of spending time in cyberspace are many.
Reports — If you're looking for an overview of your multiple orders, I can generate a report of all your orders up to a period of 6 months. Perfect for analysing how your business is progressing and sparing you the hassle of checking individual orders. I'm thoughtful that way.
Returns — While I'm sure my artisan friends over in India have done a supreme job on the products you received, sometimes they slip through the cracks and fail to reach our high standards. It may even be logistical errors or a particularly bumpy ride on the way to your customer's home. Whatever the case, you may file a return in this section and also learn about our returns criteria. I'll be initially processing your returns before handing them off to my human colleagues for a final evaluation. They aren't quite as fast as me so please allow them 2 working days to process returns. To check the step by step guide, please log into your trade account dashboard.
Shipping Quote* — I know my way around the world pretty well owing to those annual holidays to whatever water body catches my fancy. Hence, if you enter your postcode (in the case of the UK) or just the country you'd like to ship to, I can give you an idea about what it'd cost to ship a product there.
Stock Availability — Simply enter in the product code and I'll have a virtual zip around the warehouse and instantly tell you its amount of stock and the restocking date. I can also sneak in to the Jaipur factory and keep a birds eye view of our containers on the water to give you a more detailed idea about where your product is.
Wholesale — This is the section for all of you wholesale customers. You can query me about container loads, wholesale prices, and a general insight into the wholesale programme.
Why do we require submissions via Flo rather than emails or tickets? (Regarding point #14)
While we understand that this may appear to be a 'stubborn' decision with additional steps, it is critical that you, our customer, understand the reasoning behind this decision.
Flo, our automated artificial intelligence-based system, is deeply integrated with our factories and artisans, as well as our offices in London and Jaipur, Ipswich distribution centres, and logistics partners such as DHL.
All submissions are then thoroughly reviewed by a human team comprised of carpentry, packaging, finishing, dispatch, admin, and quality control personnel.
Once each individual evaluation and approval is completed, the system automatically logs a counterclaim with the logistics provider and shares details with the training and learning department to avoid reoccurrence of the same issues in the future.
This fully integrated chain of command cannot be replicated or executed if a customer sends an email or raises a ticket; not to mention the lack of viability to other departments and data analysis, including lack of filing of the counter claims.
As a result, it is absolutely critical for every customer to spend a few extra minutes filing an appropriate claim through the proper process to avoid major disappointment in the future when emailed claims are rejected for the reasons stated above.
According to our internal data, nearly all emailed or ticketed claims are rejected, compared to a healthy claim acceptance ratio for a valid Flo submitted claim.
Check out the video tutorial showcasing the step-by-step guide to how to file a claim with Flo.